Serving our clients. Strengthening our community.
Baulke Stahr McNabb LLP is a full service law firm with deep roots in the Collingwood and surrounding area. Located in the historic former Bell Telephone building at 150 Hurontario Street, our firm has helped generations of clients with their professional needs. Tom Baulke, Michael Stahr, Ben McNabb, Tracy Fleischmann, and Ryan Baulke carry on that tradition of excellence with a team approach to problem solving based on enthusiasm, expertise and experience. Our firm and our clients also benefit from a very knowledgeable staff consisting of a paralegal, legal clerks and assistants. Our dedicated staff members have nearly 200 years of combined legal experience between them, and they help to ensure that you receive only the best service.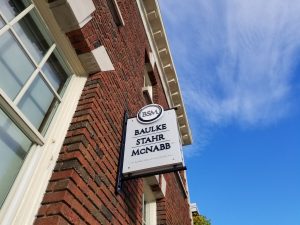 150 Hurontario Street
150 Hurontario Street is a historic building conveniently located in Collingwood's heritage district. Formerly the Bell Telephone building, it was purchased in 1966 and has been used as a law office since that time.
Formerly Baulke Augaitis Stahr LLP
Following the retirement of Vidas Augaitis in 2013, Baulke Augaitis Stahr LLP was renamed in 2017. Baulke Stahr McNabb LLP carries on their tradition and is pleased to welcome existing and new clients to the firm.